【MV】Blockchain Bridging has now launched!
3/16/2023
GensoKishi Online has collaborated with ConsenSys, the developers of renowned MetaMask wallet, and have developed a blockchain bridge for MV!
What is a Bridge in crypto?
A crypto bridge is a technology that allows users to transfer digital assets from one blockchain network to another. As different blockchain networks use their own tokens or cryptocurrencies, a bridge is required to send or receive tokens between different networks. With the bridge technology, interoperability of tokens between different blockchain networks has improved, allowing users to transfer tokens more freely and efficiently. There are 2 blockchain networks for each MV and ROND, MV(ERC20) and MV(Polygon) / ROND(ERC20) and ROND(Polygon). As for both MV and ROND, the blockchain bridge will allow users to port "Polygon to ERC20" and "ERC20 to Polygon."
To utilize the blockchain bridge, please follow the instructions below:
【MV Bridge】
For MV, the blockchain bridge will allow users to port "Polygon to ERC20" and "ERC20 to Polygon."
Bridge activation URL:
https://wallet.polygon.technology/polygon/bridge/deposit
Contract address for MV (ERC20):
0xAE788F80F2756A86aa2F410C651F2aF83639B95b
https://etherscan.io/address/0xAE788F80F2756A86aa2F410C651F2aF83639B95b#code
Contract address for MV (Polygon):
0xA3c322Ad15218fBFAEd26bA7f616249f7705D945
https://polygonscan.com/address/0xA3c322Ad15218fBFAEd26bA7f616249f7705D945#code
【How to port MV (ERC20) to MV (Polygon)】
Open your MetaMask wallet, and set the MetaMask Wallet to the Ethereum Network. Then activate the connection on the MetaMask wallet.
Select Polygon Bridge from the Menu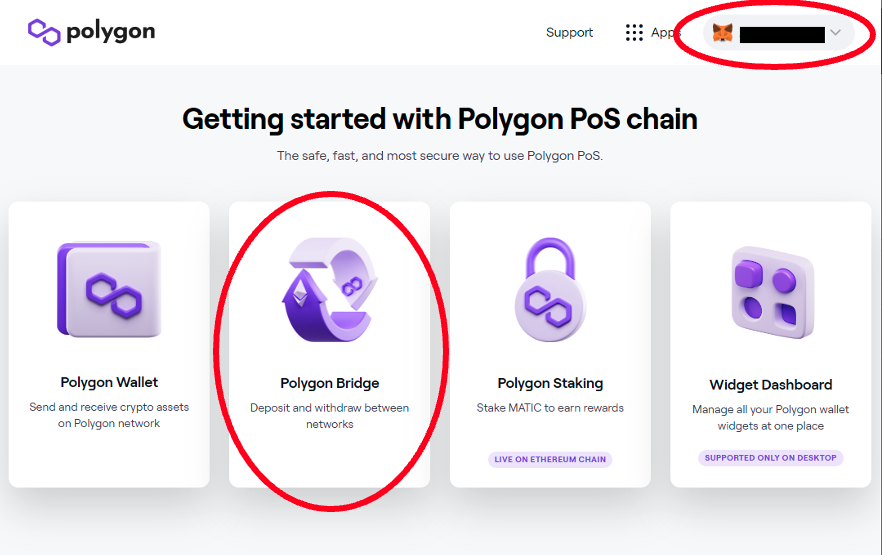 Switch the Metamask's chain from which you are converting from. For example, if you are bridging from ERC20 to Polygon, have the button show as "Switch to Polygon" with the "From" showing the Ethereum chain.
Select Deposit
Press where Etherum is currently showing to set the conversion source token to MV.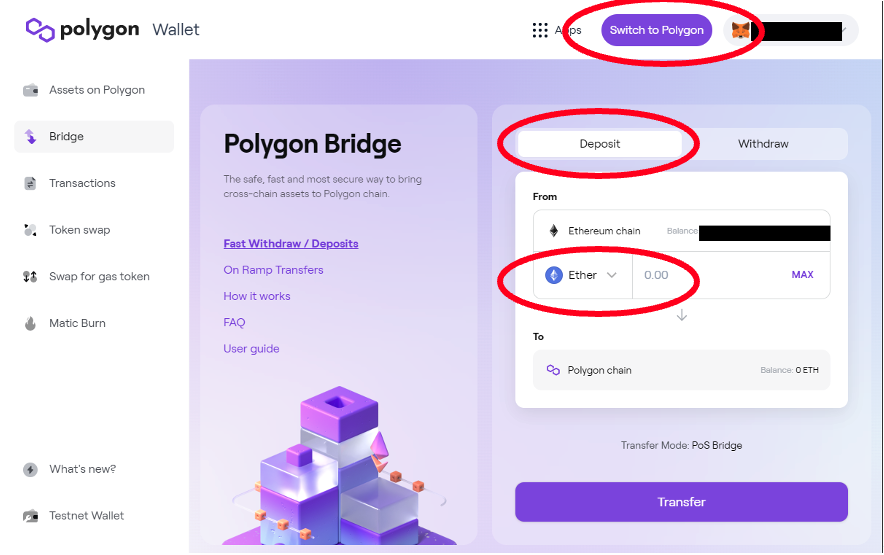 Click on "Manage token list"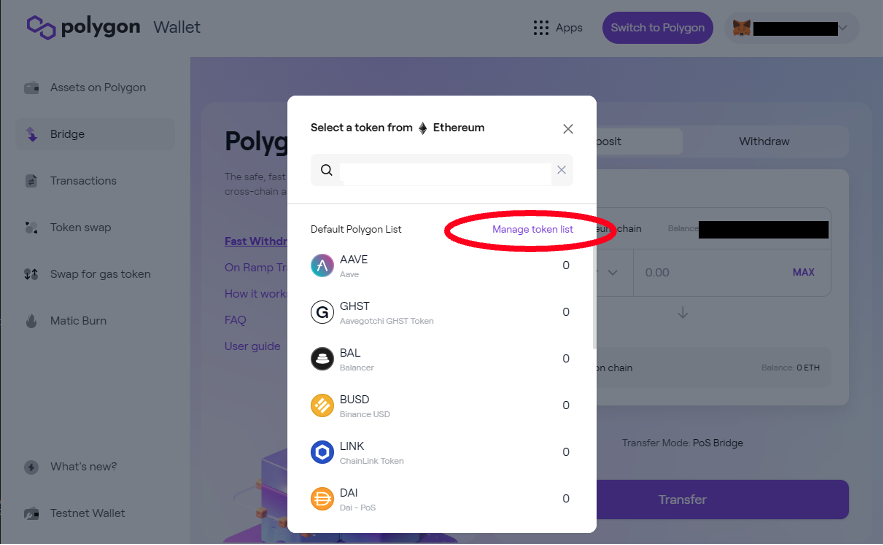 Select "Tokens"
In the search window, copy & paste the contract address below for MV (ERC20): 0xAE788F80F2756A86aa2F410C651F2aF83639B95b
and search.
Turn MV "ON" within the "Token found in list."
Go back a screen by clicking the ← (backward arrow) button on the top left of the window.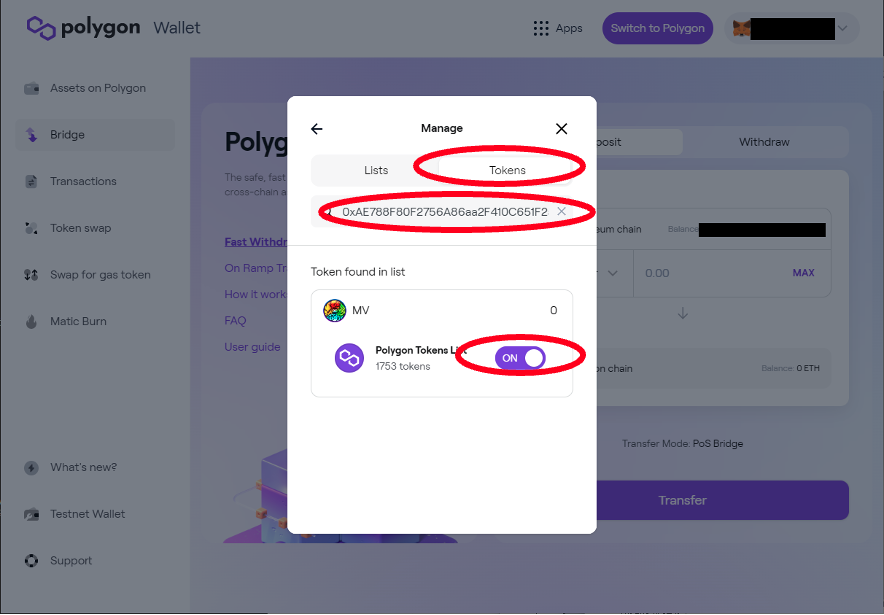 MV will now be displayed in the search window, and now select MV to set.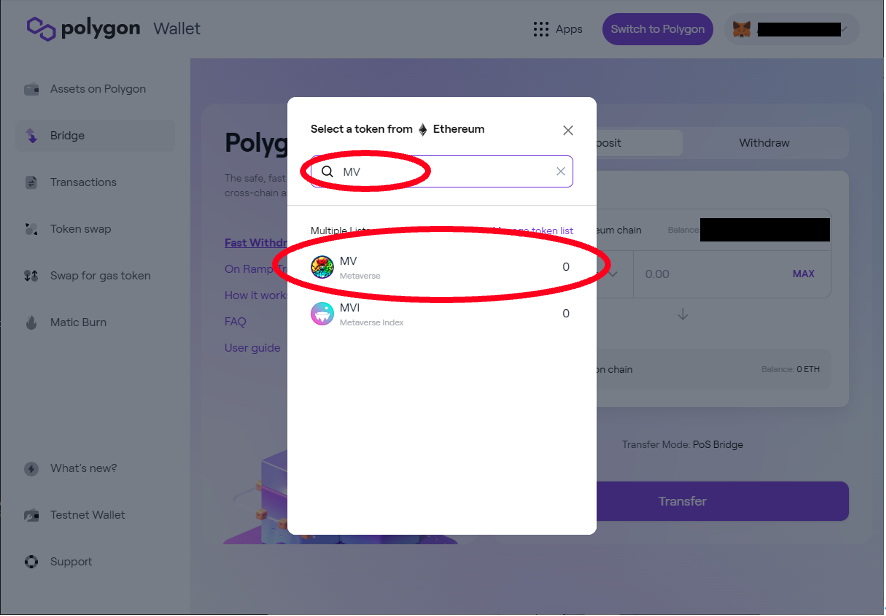 Confirm that your MetaMask contains MVs, set the amount of MVs you want to convert, and click the "Transfer" button to execute. ※ There will be a gas fee and handling fee to use the bridge tool. ※ There have been many reports of hacking incidents during blockchain bridging from other projects, and we recommend that you conduct the bridging with great care. For example, do not tell a third party or public announce that you are going to use the blockchain bridge.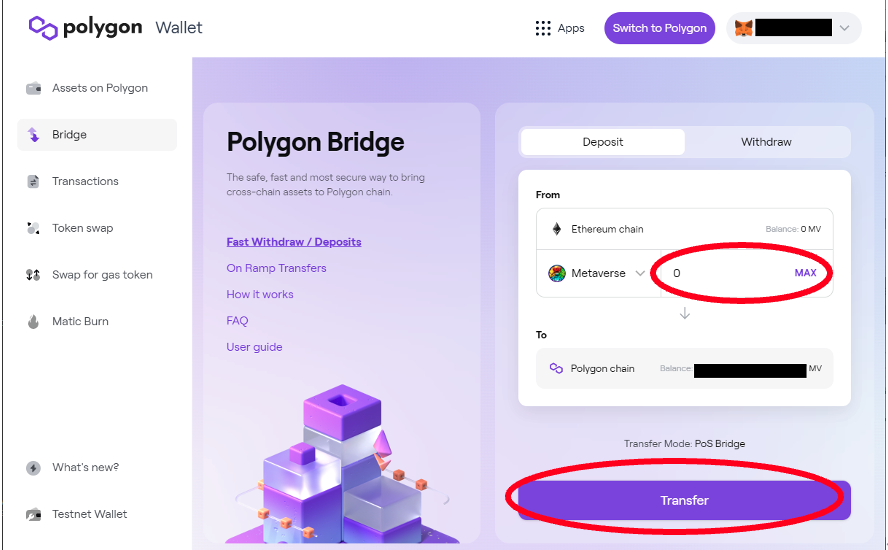 【How to port MV (Polygon) to MV (ERC20)】
You will need to reverse the settings explained above in "MV (ERC20) to MV (Polygon)." Please make sure you change the settings to MV (Polygon) in order to transfer to MV (ERC20).
◆ GensoKishi Online -META WORLD- Community
Official Site : https://genso.game/
Twitter : https://twitter.com/genso_meta
Discord : https://discord.gg/gensometa
LINE : https://lin.ee/fRx2vvE
Telegram(English) : https://t.me/gensometamain
Telegram(Chinese text) : https://t.me/gensometazw
Telegram(Japanese) : https://t.me/gensometajpn
YouTube:https://www.youtube.com/channel/UCMi4wGMEWgC9VVps8d_NLDA
Gensokishi Online will continue to provide cryptogame enthusiasts with updates on this project.
Stay tuned here to get the latest on GensoKishi Online!