Embarking on an epic Web3 Adventure with Astar Network!
11/17/2023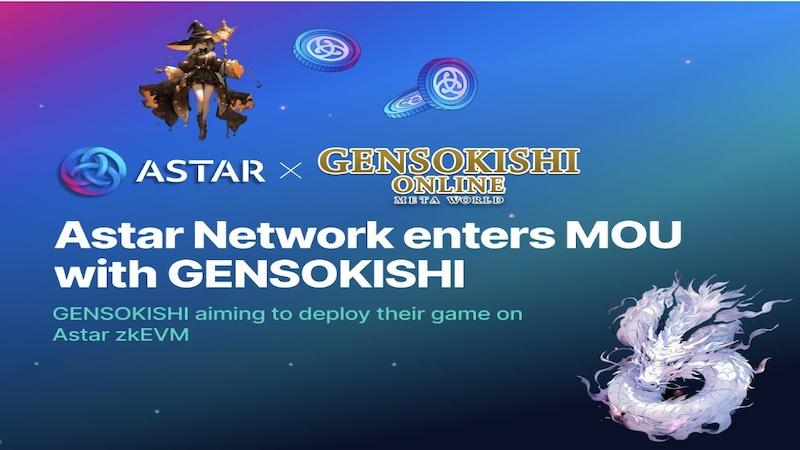 Hello, Genso Knights!
Exciting news awaits as we stand on the brink of an incredible new venture! We're overjoyed to announce a partnership with Astar Network, marking a significant milestone in our journey to redefine the gaming landscape. Our union with Astar promises an immersive gaming experience empowered by the limitless potential of blockchain technology.
◾️About Astar Network
Astar Network stands as a beacon of innovation, championing the frontier of web3 infrastructure. With scalability and efficiency at its core, Astar empowers groundbreaking developments in decentralised applications and gaming.
https://astar.network/
Unveiling the MOU Highlights
This exhilarating Memorandum of Understanding (MOU) signifies a shared vision between GensoKishi and Astar Network. Together, we pledge to herald a new era by deploying Genso on Astar's zkEVM, igniting a revolution in web3 gaming. Our collaboration extends far beyond integration — we're excited to create vibrant events, engaging marketing campaigns, and exclusive in-game treasures and orchestrating the grand launch of Astar's Ethereum L2.
What Lies Beyond?
Prepare yourselves for an odyssey filled with excitement! Keep a keen eye as we navigate the integration process, unlocking the true essence of blockchain-powered gaming. Expect regular updates as our collaboration unfolds, shaping a gaming universe beyond imagination.
Together, GensoKishi and Astar Network embark on a legendary quest, uniting technology and entertainment to forge a new era in web3 gaming.
Brace yourselves, noble warriors, as we enter this unparalleled adventure!
Join us in rewriting the future of gaming.
◆ GensoKishyi Online -META WORLD- Community
Official : https://genso.game/
Twitter : https://twitter.com/genso_meta
Discord : https://discord.gg/gensometa
LINE : https://lin.ee/fRx2vvE
Telegram(English) : https://t.me/gensometamain
Telegram(Chinese) : https://t.me/gensometazw
Telegram(Japanese) : https://t.me/gensometajpn
YouTube:https://www.youtube.com/channel/UCMi4wGMEWgC9VVps8d_NLDA