End of Community Registration Campaign and Start of Accepting Applications for NFT Gifts
12/27/2021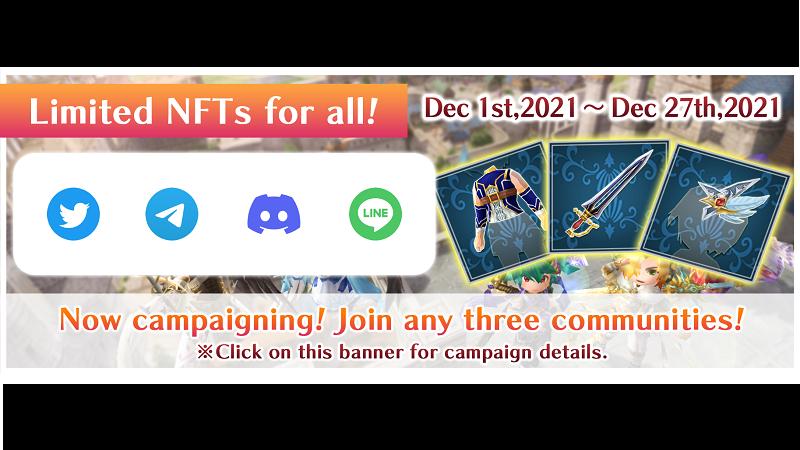 Community registration campaign ends
The community registration campaign that started on December 1, 2021 has ended as of December 27, 2021.
If you are a registered member of any of the communities during this period, please send us your account name from the dedicated form so that all of you can have a chance to get the limited NFT.
About the Application Form
↓↓↓↓↓↓↓
Click here for the application form.
Please click on the link above to access the application form and fill in your account name in each community you have registered and followed, and the wallet address where you would like to receive the NFT.
If you have registered incorrect information, you can correct it by submitting the form again.
The application period will begin on December 27, 2021 and end on January 10, 2022.
Between January 11, 2022 and January 12, 2022, we will make a list of those who are eligible to receive the NFTs, and distribute the NFTs to the registered wallet addresses on January 13, 2022.
Please note that NFTs will be distributed by Polygon (ERC-721).
About the NFTs to be distributed
The contents to be distributed will change depending on the number of participants in the community.
Participation 1: "Departure Clothes" NFT
Participation 2: "Departure Clothes" and "Departure Hat" NFT
Participation 3: "Departure Clothes", "Departure Hat", "Departure Sword" NFT
We will also be distributing rare and limited edition NFT "Moonwalk (Emotion)" to 100 people by lottery.
Winners will be notified of their winnings upon delivery of the products.
Community
Telegram : https://t.me/gensometamain
Discord: https://discord.gg/gensometa
Twitter : https://twitter.com/genso_meta
LINE : https://lin.ee/fRx2vvE
The Gensokishi Online Project will continue to provide updates to cryptogame fans.